The story of Angelica Larsson
Meet Angelica Larsson, Swedish truck driver, heavy equipment operator, sky diver, scuba diver, motorcycle rider… you know, your typical girl next door. Or is she?
Angelica made a splash on Instagram, where Diesel Spec discovered her. At exactly 5 foot tall, physically fit, with her flawless skin and thick blonde hair, she was quickly named the "World's Most Beautiful Truck Driver", a title she doesn't like at all. She would much rather be known for her driving skill and work ethic than her looks. And skill she does have!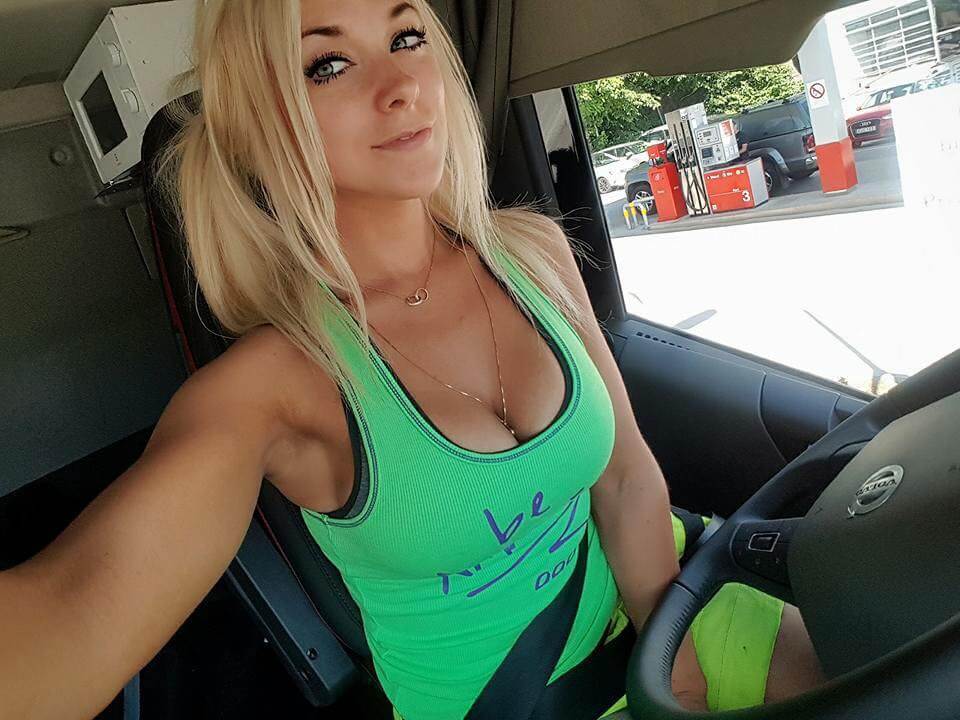 This 5-foot-tall dynamo handles heavy equipment and big trucks, even wiggle wagons, with more style and grace than some of the most seasoned male truck drivers out there, and she does it all with a smile. Having climbed inside her first big truck at the tender age of four, she discovered a passion for semi trucks and driving that is rarely seen these days. When she was 19, she got her commercial vehicle license and began driving semi trucks over in Sweden professionally.
Along with the Euro-style trucks like Scania's, Angelica Larsson also excels at driving dump trucks, snow trucks, and even excavators and other heavy equipment. In fact, she owns her very own wheel loader, or heavy duty style snow plow, that she takes out to clear roads for fun! Her dream is to travel the world, with her loyal companion Mr. Fox, test driving heavy trucks on some of the worst and most challenging road conditions she can find.
When I asked her what were the top three countries on her bucket list to drive in, she mentioned Norway "Because their notoriously bad roads would be great to test her driving skill." Also in that list was India, again for their bad road conditions, but she would also like to experience the culture. And of course, she says no list of challenging and exciting driving conditions would be complete without driving a "land train" across Australia. Talk about exciting! This young lady knows how to dream big, and go after her dreams. I don't think she would have any problem handling trucks in any of those locations.
Angelica Larsson was featured in the 2017 DSI Calendar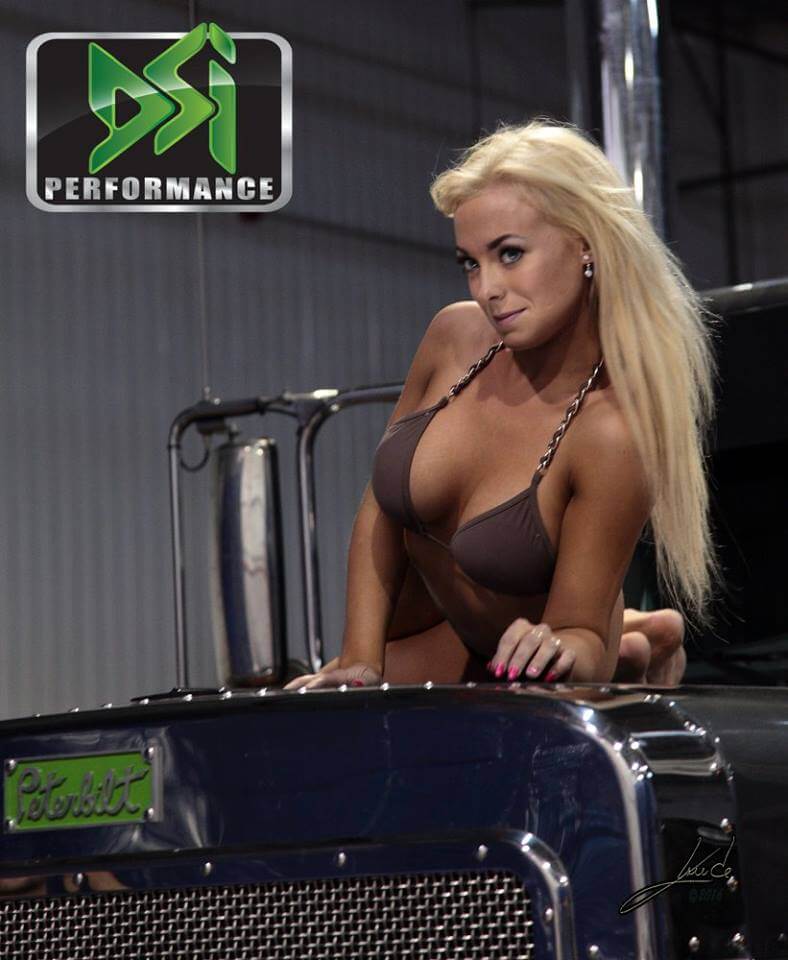 In fact, always up for a challenge, Angelica Larsson jumped at the chance to test drive some Big Rigs at The Great American Trucking Show in Dallas last August. It was her first trip to America. Her first time driving an American-style semi truck. Her first time driving on America roads. Talk about trial by fire, her first outing was driving on the roads in downtown Dallas.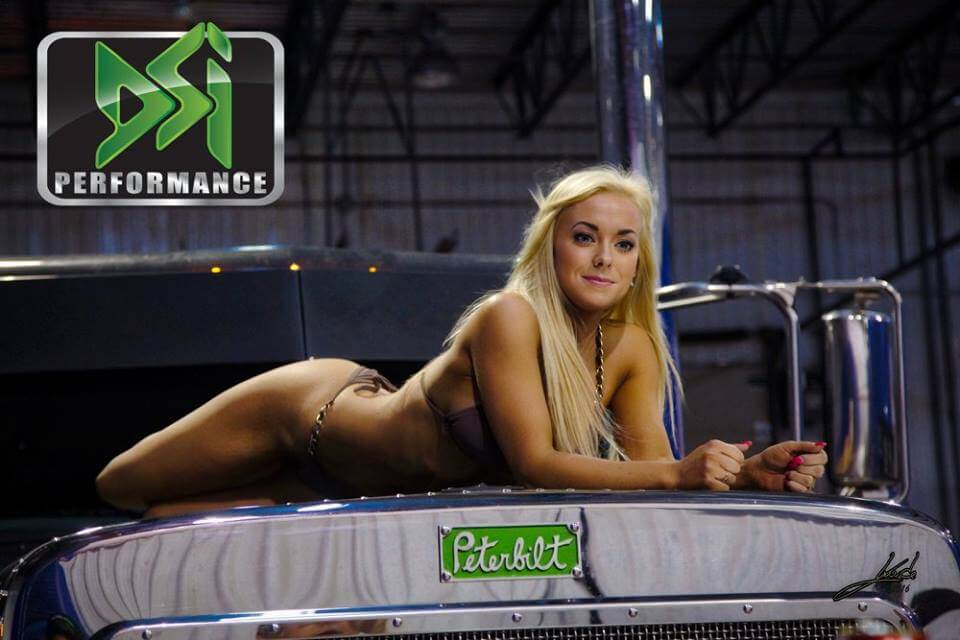 She got to drive both a Volvo 680, and a new Kenworth T660 in Dallas last year. Then while visiting in Florida after her second trip to America for the Mid-America Trucking Show this past March, she had the chance to drive again. This time both an old-school, long-nosed Peterbilt and old-school Kenworth. When I asked her which truck she liked better, she didn't hesitate. "Kenworth! They are so bad ass!" I have found a kindred spirit!
Personally, I am fascinated by the Scania's, something she gets to drive on a regular basis. I've never been in an American cab over, much less in a Scania. When asked about the differences, she said the biggest, most noticeable difference is that Euro trucks turn easier. That certainly helps when driving on the narrow roads in Sweden and backing into tight docks. She pointed out another difference is that all the roads in Sweden have a maximum 55mph speed limit. 55Mph! It's like driving in California all day, everyday! The 80mph speed limit on the highways here in America was a thrill to her!
She also brought up e-logs. Queue grumbling from the vast majority of American truck drivers Over in Sweden, the e-logs are a disc that is actually inserted into the truck that records every single thing the truck does. Not only that, the record on any given disc goes back at least two years for that truck and driver. So any inspector can see at a glance exactly what has been done, when, for how long, how fast, etc. I'm not sure America is ready for such oversight.
Angelica Larsson isn't just a lady driver. She is a hard worker who takes pride in her job and skill. Along with driving just about anything you can throw her way, she also handles physical demands of the job like strapping, tarping, loading and unloading, and working on her truck with ease and skill. Her ability to handle the job, any job, has earned her much respect from fellow drivers in Sweden. She says she doesn't get much harassment for being a female because she's able to do anything the guys can do, and does it without complaint.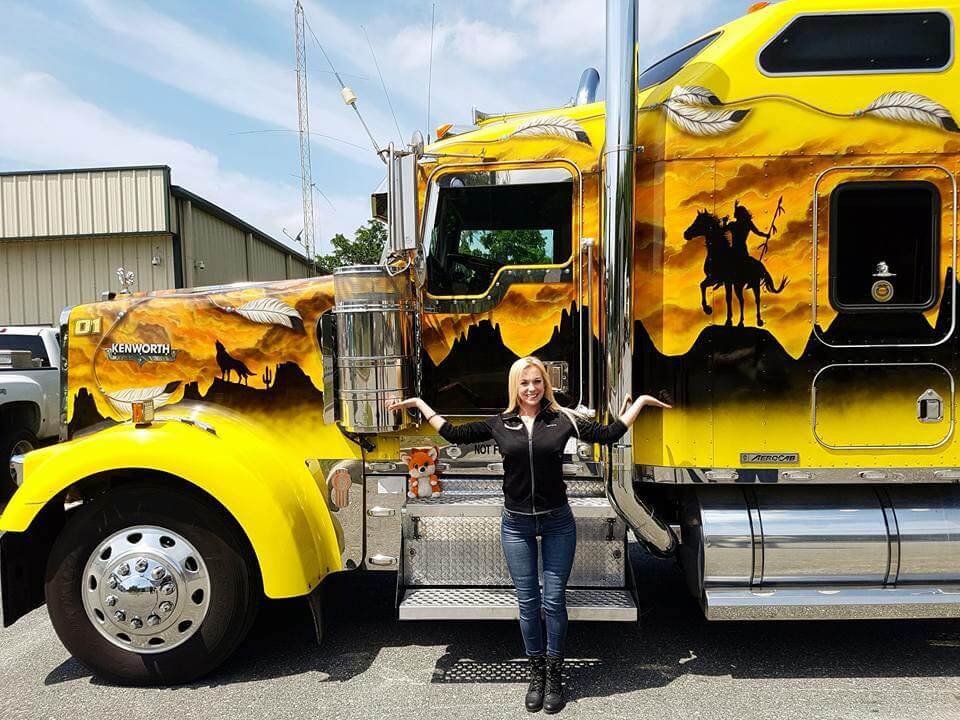 Angelica was featured in the 2017 DSI Calendar (Promo Video)
She is a positive, uplifting person, and it is no wonder she succeeds in everything she sets her mind to do. She has such a cheerful, can-do, personality that I can't imagine anything ever holding her back or slowing her down. This young lady is on a path to greatness! Her dreams of traveling the world, test driving different rigs, on various road conditions, in different countries is going to happen! She's 5 foot tall, bullet proof, and someone to keep your eye on as a leader and pioneer in the world trucking arena.