About us
- Why buy from us?
We have over 400 resellers in North America to better serve you
Best aftersale support in the market with 15 employees
All our tuning are made in house and Dyno tested
We offer tuning on more brands and models than any other competitors.
We are #1 tuning shop in North America since 1987! Over 50 000 trucks tuned!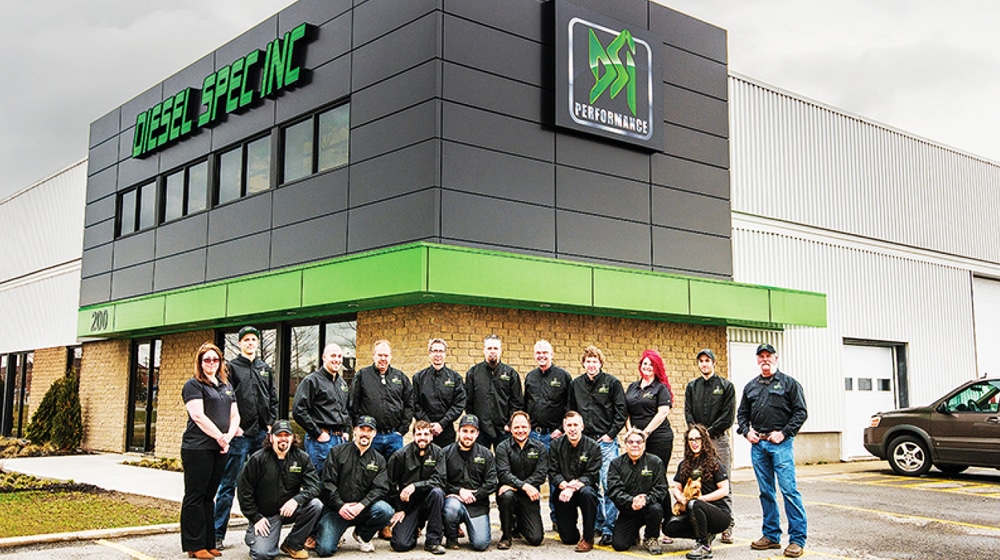 Diesel Spec Inc. is the leader in truck diesel engine ECM tuning technology
With over 50,000 medium and heavy-duty diesel truck tuning performed, Diesel Spec has built its reputation with countless satisfied customers all over the world.
If you are looking to improve fuel economy and/or increase the power of your current engine, we are confident that our expertise can help you achieve these goals. We offer a 30 Day satisfaction money back guarantee on all our tuning.
Diesel Spec has over 400 dealer locations in North America. We are growing with dealers in United States and Canada. We can serve you, no matter wherever you may be!
Diesel Spec specializes in fuel efficiency and performance tuning for owner/operators and fleets alike. Our high performance tuning designed for drag racing and off road competition may require EGR valve delete, DPF delete ( Diesel Particular Filter ) and/or Urea deletion kits. These changes would make for a winning upgrade.
We offer diesel engine tuning for :
Cummins, Caterpillar, Detroit Diesel, Mercedes, Isuzu, International Maxxforce, Paccar, and most agriculture engines.
Established in 1987 and with over 31 years of experience in heavy duty diesel engine, Diesel Spec Inc. is the best choice for all your heavy duty truck engine and performance needs.
Diesel Spec continue to be innovative, each day, to keep our customers satisfied by offering them the best quality service possible and the latest technologies.
We are specialized in the following engines :
Cummins
Caterpillar
Detroit Diesel
Paccar
International Navistar
Mercedes
Contact us
Meet our amazing

Diesel Spec Inc Team
Christian
President
Christian started to work on diesel engines with his father, Eddy, who founded Diesel Spec in 1987. But when the first electronic engines came out, it brought him to completely changed the vocation of the company. Visionary, he saw in the new technologies a great business opportunity, but also a solution to help truckers getting more performance and better fuel milleage of these electronic engines. Today, Christian and his team have brought Diesel Spec to be the North-American leader in diesel engine tuning. Man of heart, Christian is also at the center of Diesel Spec family. A big family which includes not only Diesel Spec team, but above all its customers. And when he's not at the shop, there's only one place where you can find him : on the water, a fishing rod in his hands.
Ian
General Manager
Ian is a member of Diesel Spec team since 2012. Experienced mechanic, graduate from Scarborough Centennial College, he has worked for many years at Caterpillar. He's been managing Diesel Spec fabulous team since 2013, with a very clear goal : ensure that every client is a happy client. He promotes his problem solver approach to all team members. For him, there's no problem, just solutions. And when he's not at work, his free time is divided in two : comes sunshine, he rides his bike; comes rain, he cleans his bike!
Marc Springer
USA Sales Representative
Marc Springer needs no introduction. You've seen him in Shipping Wars, you've heard in on many trucking radio shows. Former Harley Davidson salesman of many years, Marc would not put his hard earned reputation in jeopardy selling just anything. This is why, when he was approached by Christian from Diesel Spec and offered to promote and sell Diesel Spec products and services he accepted. Firm believer in the benefits of tuning diesel engines, Marc is an even firmer believer in Diesel Spec. In his words, Diesel Spec does what they say they do, and to him, that's a big deal. And guess what… Just like Christian, he enjoys fishing and spending as much time on the water as he can!
Emmanuel
Programmer / Developer
Emmanuel is one of the brains of Diesel Spec. A seasoned mechanic with over 20 years of experience, he's been working for the past 12 years in developing the programs that allow Diesel Spec to offer the best performance tuning you can get. What wakes him up every morning? Staying at the forefront of technology, and keeping learning each and every day.
Jimmy
Programmer/Developer
Jimmy joined Diesel Spec team in 2014. He learned his trade as a diesel engine mechanic the old fashion way, and started to get his hands dirty in his childhood. Seasoned traveller, he has also worked on mining drills in Africa. His interest in program development came from the challenge of making diesel engines more performant. For him, the more complicated it gets, the better. And his passion follows him at home, where he spends his free time working on… engines.
Sam
Programmer / Developer
An automotive mechanic graduate, Samuel has been working at Diesel Spec since 2014. His passion : developping the best performing softwares and tunings. What he likes the most at Diesel Spec : team work and technology challenges. And when he's not trying to solve a technical problem, Samuel takes on another type of challenge : rock climbing.
Stamati
Programmer
Another proof of our constant growth is our new programmer Stamati! Experienced mechanic who dedicated most of his life to the same company, he recently joined Diesel Spec to expand his knowledge and give us a little bit of his. A great family man who likes to escape to Greece every once in a while, to keep in touch with his roots.
Dany
Master Mechanic/Dyno Technician
Dany joined Diesel Spec team in 2015. Mechanic from father to son, he has been working in that field for over 7 years. Dany takes care of all emission control components delete (EGR, SCR, DPF) and installation of all DSI performance parts and components, as well as dyno and road tests. His passion : engine performance, no matter what engine, or what it moves.
Joe
Remote Tool Developer
Joe learned computer programming by himself, and has been working in this field for 28 years. He admits being sort of a geek. He first took care of Diesel Spec IT. But when Christian asked him to develop a tool that would allow to perform remote distance tuning, he took on the challenge. Diesel Spec remote tuning tool is now at its 6th generation, and represents today a great asset for the company. And this is exactly what Joe loves the most : finding solutions and creating the best tool possible, to better serve Diesel Spec customers. And when Jo is not working on the next great remote tuning tool, he enjoys working in renovation, another challenge where perfection is the key.
Paul
Mobile Technician
Paul has been a trusted partner of Diesel Spec for many years. In fact, he was working in collaboration with the company way before Christian took over Eddy. Experienced mechanic with over 40 years in the trade, owner of his own mobile service company, Paul Service Plus, he works at supporting Diesel Spec in keeping the clients on the road. Firm believer of Diesel Spec, he has no hesitation recommending its products and services to his own clients. For him, Diesel Spec stands for 100% customer satisfaction. And when he's not driving around with his tool box, he carries his fishing gear box and goes out fishing as much as he can.
Jamie
Sales & Customer Service / Shipping/Receiving
Jaimie is a customer service professional. He first started at Diesel Spec in shipping and receiving, but quickly was recognized as a valuable asset for the company, with his thorough knowledge of truck parts. Jaimie knows Diesel Spec products and services from start to finish, and has earned the trust and respect of our clients. Born in New-Brunswick, he wears a Diesel Spec tattoo on his heart, but admits missing his home land from time to time.
Sylvie
Office Manager
Sylvie is the right arm (and sometimes the left one, or even the brain !) of Christian and Ian. Accounting graduate with over 20 years of experience in administration, business and team management, she joined Diesel Spec in 2015. But outside of being am outstanding manager, she has a long time passion for heavy trucks. So she feels completely at home at Diesel Spec. And when she's not solving all the issues landing on her desks, she most loves spending quality time with her family and friends.
Julie
Accounts Payable
Numbers have no secrets for Julie. She holds an administration and finance diploma from André-Laurendeau CEGEP. Responsible for clients accounts and invoicing, Julie joined Diesel Spec in 2016. What she likes the most at Diesel Spec : the great work atmosphere and her cool colleagues. Her hobby : learning something new by herself on just about everything… thanks to Youtube!
Martin
Customer Service & Marketing
Understanding numbers, reading statistics and analyzing results are complex elements that can be compared to Chinese for many people. In this area, Martin is the perfect person. He has an understanding of the complex world of marketing. Perfectionist, he is constantly looking for optimization and advertising performance. He keeps his knowledge up to date with the latest technological developments in this field. The management of the website, sponsorships, magazine and Internet advertising are part of his tasks.
Rosalia
Artistic Director
Rosalia joined Diesel Spec team even before there was Diesel Spec. Since 2009, she has filled just about every administrative function in the company. Graphic design graduate from the LaSalle College, she now dedicates her time to creating the visual image and promoting Diesel Spec. As a team member, she brings her acute sense of humour and « joie de vivre », a true sunshine in the world of diesel engine tuning. In her free time, Rosalia confesses to be a gamer, and enjoys all of life's little pleasures.